-> Spring. 2023
-> Interactive projection on mended old clothes, conductive threads, Adafruit Flora, Washing Line
-> 40'' x 23''



Cloth on Cloth(es) is an interactive e-textile piece incorporating projection onto a mended linen garment. This work is part of a long-term research project exploring interactivity in electronic textiles. Fabric scraps gathered from second-hand clothes, mended and stitched with pieces of conductive cloth by conductive threads, become tactile interfaces where audiences can interact with a visual prose poem projected on it. The prose, narrating the emotional undertones linked to repair-work, visually emulates the movements of a piece of fabric as the projected words sway, are folded or torn, all in response to the viewer's touch. Driven by custom software, the words form a kind of "digital fabric".


Cloth on Cloth(es) sits at the crossover of times: it recalls the exquisite textile craftsmanship predating the momentum of the Industrial Revolution, exploring the duality of fabrics in both digital and physical reality. As a pre-capitalist craft, repairing old clothes connotes love and care from the person who mends them--usually a mom, a wife, or an elder sister--to the one who wears them. Throughout history, textiles have shared comparable silent roles as women; yet, women's wisdom, experiences and emotions are stitched into patchworks, portraying textiles as a medium for memories. The visual aesthetics of Cloth on Cloth(es) also draws inspiration from the Chinese Baijiayi and the Korean Bojagi traditions, both of which are patchwork textiles known for their balanced use of colors, delicate collages, and the implied blessings of the textiles.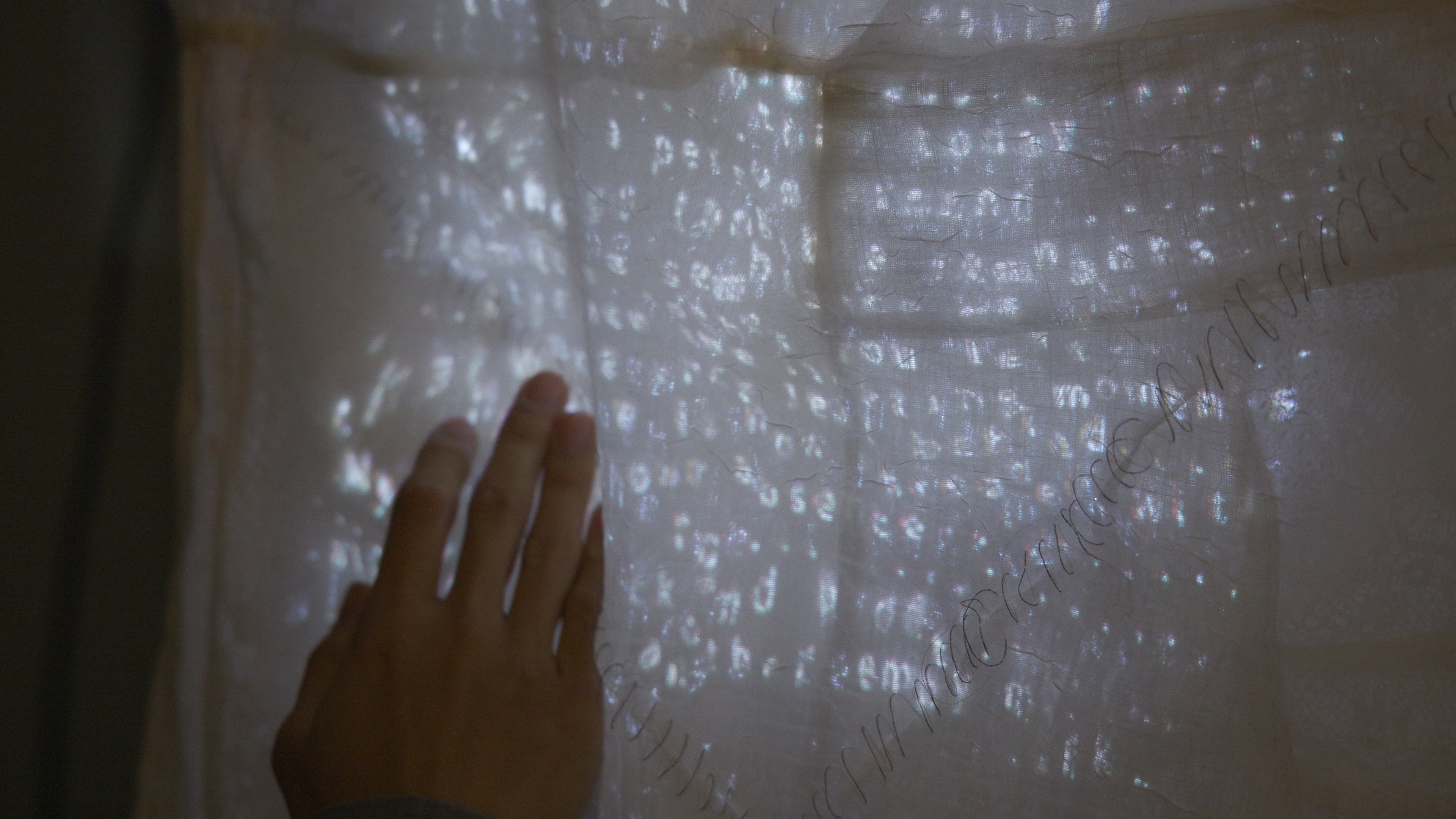 Textiles woven or stitched with conductive materials become smart objects that pass electronic signals while retaining their softness, elasticity, and other tactile qualities as fabrics. By intentionally channeling old fabrics from second-hand sources into resilient, soft, and tactile interfaces utilizing modern electronic technology, forgotten emotions and values are vividly relayed. Discarded garments originating from varying locales become symbols narrating stories tangled in space and time. In Cloth on Cloth(es), a piece of digital cloth augmenting layers of mended linen fabrics renders a harmonious superposition of past, present, and future, questioning the dichotomy of "high" and "low" technology, as well as values ingratiating the 'newest-is-best' that prevail in today's society. This project presents the interplay of a piece of poem and a piece of fabric, the juxtaposition of medium and the duality of narratives. A digital, dynamic, fabric-like poem is untouchable, and yet the tactile of the stitched linen triggers the movements of the visual poem, envisioning an experimental way to experience old clothes, and imagining alternative narratives of sustainable materials.





-> Special thanks to Jiho Park and Aya Abdallah for their generous feedback and help in the documentation.